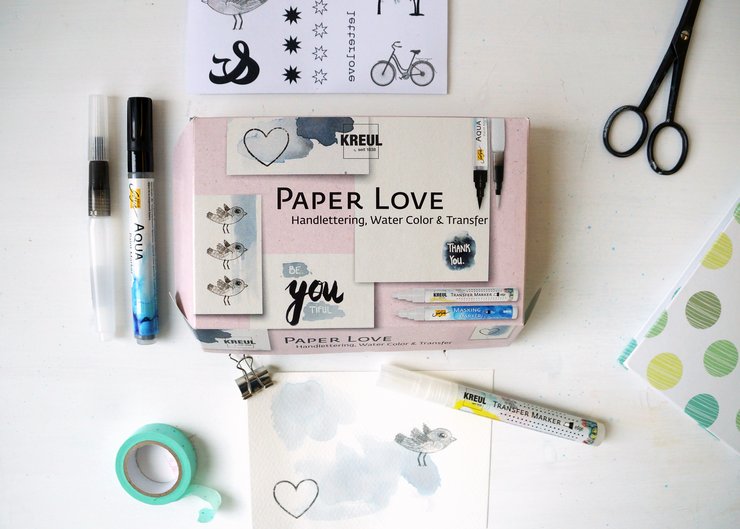 A lot of paper love: hand lettering, water colouring and transferring in one set
05/17/2019
|
SOLO GOYA Aqua Paint Marker
KREUL Glass & Porcelain Pen Easy
Paper design is way beyond classic writing and drawing. Watercolour effects convey lightness. Hand lettering carries poetic messages and filigree motifs conjure smiles on the viewer's face. The opportunities are almost endless: invitation, birthday and wedding cards, gift tags and posters, decorative framed messages and much more.

The good thing is: all the good ideas can be realised in different techniques - and even combined.

Watercolour effects and buoyant scripts can be conjured with the SOLO GOYA Aqua Paint Marker, magic designs appear with the SOLO GOYA Masking Marker. And with the KREUL Transfer Marker, motifs can be precisely transferred from the laser printer. The KREUL PaperLove Set combines various techniques with the high-quality KREUL markers. A must for paper lovers who want to try something new.

Self-printed writings and designs
With the KREUL Transfer Marker, printed motifs or letterings are transferred quickly and simply onto paper. Simply is the motto here! Open the cap, cover the backside of the motif with the KREUL Transfer Marker, press on and ready. The transferred designs are sharp-edged and look as if printed. Here you can see how easily it works.
Hand lettering with character
Simple words and sayings written elegantly give cards an individual personality. The SOLO GOYA Aqua Paint Marker is the appropriate marker for all penmen and letter lovers. With the help of the elastic brush tip, fine lines and buoyant arches appear. The 17 colour shades are casual, bright and very rich. Metallic effects and distinctive lines appear with the KREUL Acrylic Metallic Marker which apart from paper nicely works on wood, terracotta, carton and stone - in gold, silver and copper.
See also an additional article in the Colour Blog.
Watercolour effects for thrilling looks
When the colours of the SOLO GOYA Aqua Paint Marker encounter water, they dissolve, and charming watercolour effects appear. Here a dab, there a wipe of brush and so, every map obtains a unique effect. Exact forms dissolve and soft and gentle elements can be found.

You can find strong tips for watercolour effects with the SOLO GOYA Aqua Paint Marker here, here and here.
White words amid a sea of colours
Nice messages break through intensive colour. White designs emerge. The SOLO GOYA Masking Marker is a removable scratch crepe in the form of a marker. So, exact scripts and sharp-edged lines emerge amid flowing watercolours. Quickly, easily, precisely. Ideal to combine water colour effects with hand lettering elements.
Want to know more? Here we will show you how easy it is.
The KREUL PaperLove Set - inside is everything that your heart wishes
The Set for unusual ideas on paper with the Art-Nr. 49933 includes:
1 SOLO GOYA Masking Marker fine

1 SOLO GOYA Aqua Paint Marker in black

1 KREUL Transfer Marker edge

1 KREUL Water Brush

1 b

lock of 10 sheets DIN A6

1 motif sheet for transferring